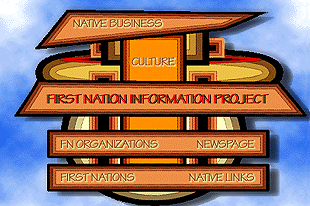 Our Image Map/Directory
NATIVE BUSINESSES
Information and listings for Native Businesses
CULTURE
Information and listings on Aboriginal Art and Culture
Listings for Cultural Centres, Friendship Centres, etc.
FIRST NATION ORGANIZATIONS
Listings and information on First Nation and other Aboriginal organizations
NEWSPAGE
Current news stories, archives
event listings
FIRST NATIONS
Listings and information on Canadian First Nations
Forms for free listing and Web Page
NATIVE LINKS
Our links to Information Sites

WELCOME TO THE ABORIGINAL CANADA INFORMATION PROJECT.


In our research for information on the Internet in relation to First Nations, we have found that the search results for economic development, community planning, self-government, education, etc., that may be focused on First Nation communities can be difficult to find. You can spend hours and even days researching the net to find meaningful information.

It is with this in mind that we have established the " ABORIGINAL CANADA INFORMATION PROJECT ". This project is intended to provide a mechanism to share knowledge, interests, and effective practices connecting the Aboriginal community from around this expanse country and the world.

The ABORIGINAL-CANADA vision is to create an on-line atmosphere connecting the Aboriginal community with each other and sharing the aboriginal experience with those who desire this experience.

The FNIP is Canadian focused, but other information and links will be added as required or is appropriate.

Canadian First Nations can have a free home page with ABORIGINAL-CANADA without having access to the Internet.

WE ARE LOOKING FOR ARTICLES, STORIES, THESIS, PICTURES, EVENTS AND HAPPENINGS, WEB LINKS OR ANYTHING THAT IS PERTINENT to the objectives of our Site

Please feel free to comment or pass on suggestions.

If you have messages, announcements, publications, files, Sites that you wish linked etc, that are pertinent to the objectives of the ABORIGINAL CANADA INFORMATION PROJECT Site and Native Socio-Economic development.

If you wish to send any comments, please send byE-MAIL.


We do not judge or rate sites or material that may be listed at this site. This " Project " is meant to be informative: ABORIGINAL-CANADA does not endorse any of the sites or organizations listed at this site.